LJP Cyber Classes
Light and lacy, this piece is made up of

simple blackwork patterns worked in cool pastel tones
that suggest wintry shadows with a hint of spring to come....
If you've never done Blackwork, this design is a good way to try it,
since the patterns are easy, and just plain fun to stitch in soft

variegated threads that create a surprisingly unique wash of color.
Sprinkle in a little bit of metallic sparkle with a handful of beads,
and you've got a piece that blends blackwork with geometrics
into a wonderfully elegant project!
"Blue Iris Square"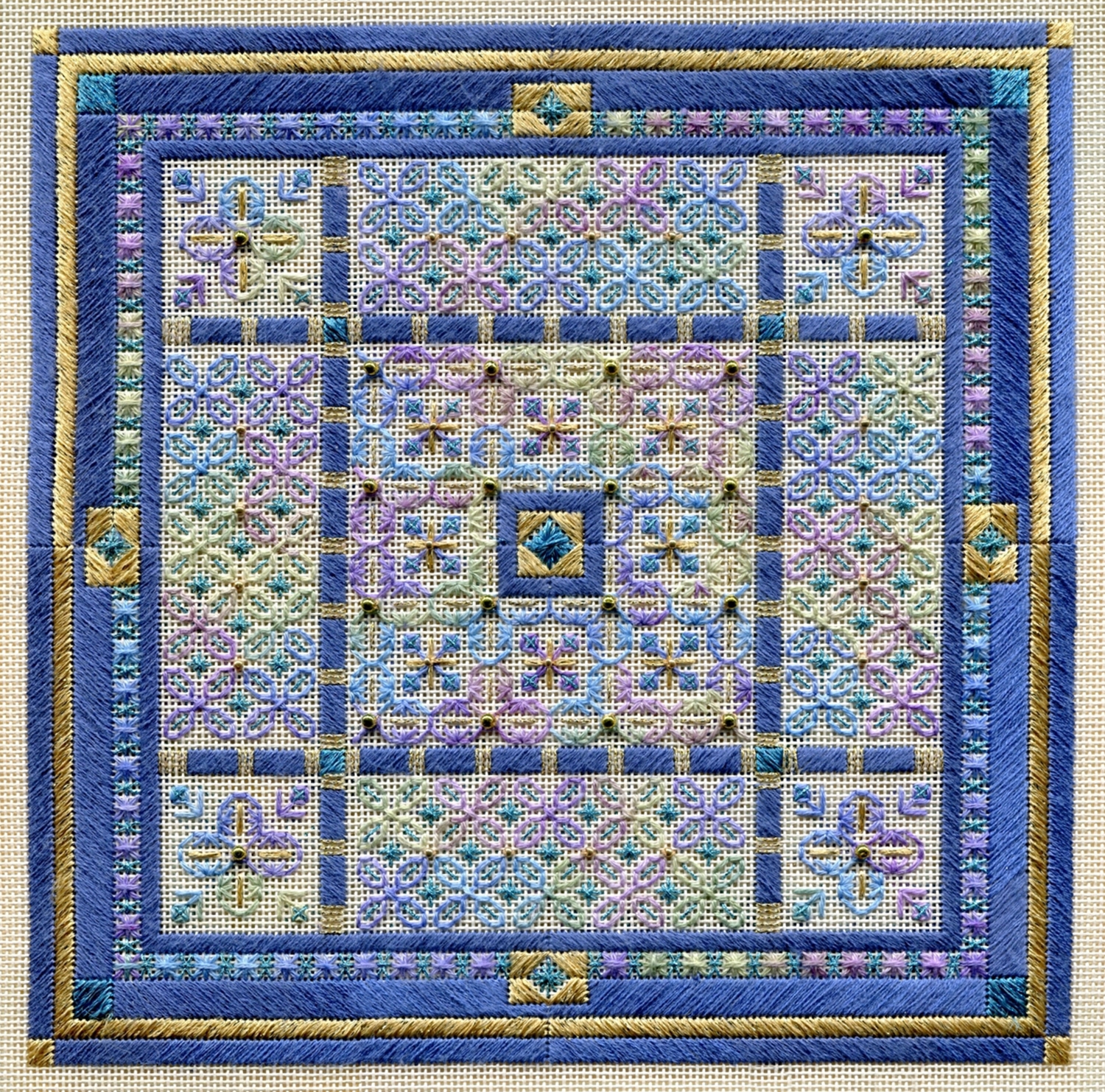 BLUE IRIS SQUARE is a 9" x 9" design that is worked on 18 ct. eggshell canvas

with a soft palette of threads (in a choice of BLUE or TEAL)
that includes: a variegated stranded BRAVO! cotton, a Splendor silk thread,
a fine metallic Kreinik #8 Braid, along with a packet of large and small gold beads.

Below, is the TEAL version (done on 24 ct. Congress Cloth, but you'll be doing it
on 18 ct. canvas.) This picture gives you an idea of the TEAL color palette: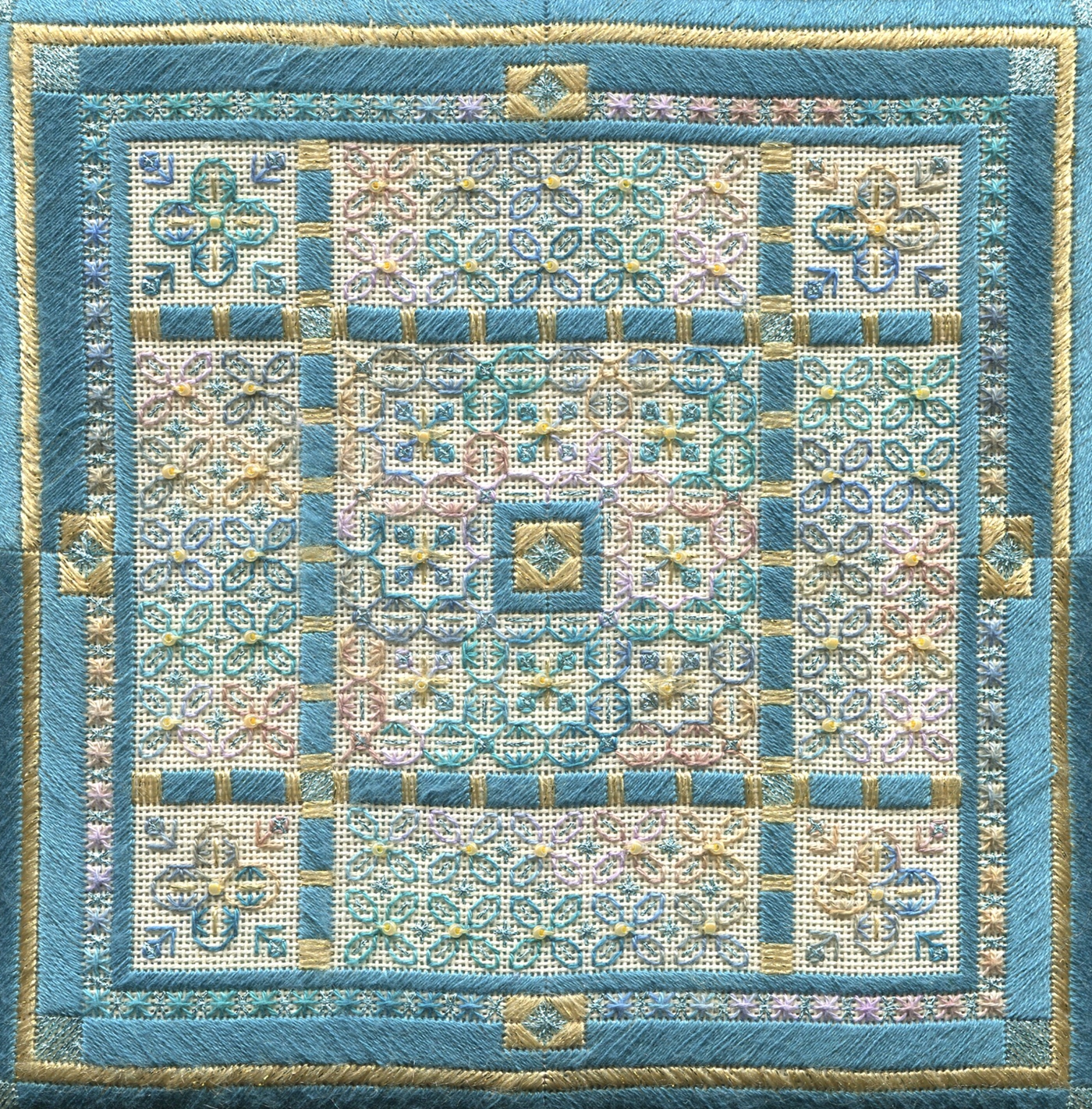 BLUE PALETTE: or TEAL PALETTE:

BRAVO!, A119 - bouquet (1.5 skeins) BRAVO!, A102 - irises (1.5 skeins)

Splendor, S1030 - blue (2 skeins) Splendor, S869 - dk green aqua (2 skeins)
Kreinik #8 Braid, 014HL - sky blue (2 spools) Kreinik #8 Braid, 014HL -sky blue (2 spools)

A full kit includes:

a thread palette of cotton, silk and metallics;

a 13" x 13" piece of 18 ct. eggshell canvas;

#24 & #28 tapestry needles;

large and small gold beads (included with pattern);


and a pattern with full textual instructions, as well as lots of stitch graphs.
The kit DOES NOT INCLUDE 13" x 13" stretcher bars or scroll bars.

Full Kit Price (excludes postage): $70.00

Pattern only (includes elessons, excludes postage): $25.00

REGISTRATION PERIOD: January 10 - February 28th, 2019

KITS SENT OUT: (mid-March, or as soon as all threads arrive!)

CYBER CLASS STARTS: mid- to end-of March 2019

CLASS INFORMATION: The class will have three email lessons sent out every other week, to give the stitcher
plenty of time to work on each step of this design. Lessons will include extra tips, notes, color & design discussions,
and up-close photos of the stitches you'll be creating. I rate this piece as one for an advanced beginner.

LJP CYBER CLASS REGISTRATION FORM
To pay with a check please print, fill out this form, and send with your payment to:
Laura J. Perin Designs
112 Wisteria Circle
Cloverdale, CA 95425
CLASS: "BLUE IRIS SQUARE"

DATE: ____________
REGISTRATION is January 10 - February 28, 2019

NAME: __________________________________________
ADDRESS: __________________________________________
__________________________________________
__________________________________________
TELEPHONE #: ______________________________________
EMAIL ADDRESS: ____________________________________
FULL KIT (threads, canvas, pattern): $70.00 __________
PATTERN ONLY (includes elessons) $25.00 __________

KIT POSTAGE (U.S. Priority):
U.S.A. $10.00 __________
CANADA: $30.00 __________
(Not available for any other countries)
PATTERN ONLY Postage, U.S. $3.00 __________
PATTERN ONLY Postage, Canada $8.00 __________

TOTAL:
______________
~ ~ ~ ~ ~ ~ ~ ~ ~ ~ ~ ~ ~ ~ ~ ~ ~ ~ ~ ~ ~ ~ ~ ~ ~ ~ ~ ~ ~ ~

I accept Credit Cards, so call me if that's the way you want to pay;

also, I recommend using your credit card through PAYPAL (which is one of their options)
FOR U.S. PAYPAL ORDERS:
To pay for the BLUE IRIS SQUARE kit, please click box below, and if you can, leave me a note

which color you prefer - BLUE or TEAL:
To pay for the BLUE IRIS SQUARE pattern only, please click box below:
FOR CANADIAN PAYPAL ORDERS:
To pay for the BLUE IRIS SQUARE kit, please click box below, and if you can, leave me a note

which color you prefer - BLUE or TEAL:

To pay for the BLUE IRIS SQUARE pattern only, please click box below: