LJP Cyber Classes
After the cold dark days of winter, aren't you
craving something soft and sweet and pastel?
My "Spring Patchwork" design is a perfect project to celebrate

the warmth of longer days and gardens filled with bright springtime flowers.
This piece is worked on 18 ct. canvas with a handful of soft silk and

delicate metallic threads..... while the stitch patterns are composed of
simple stitches that are a joy to work, as well as a delight to watch
unfold into an elegant sampler.

"Spring Patchwork"
a counted canvaswork design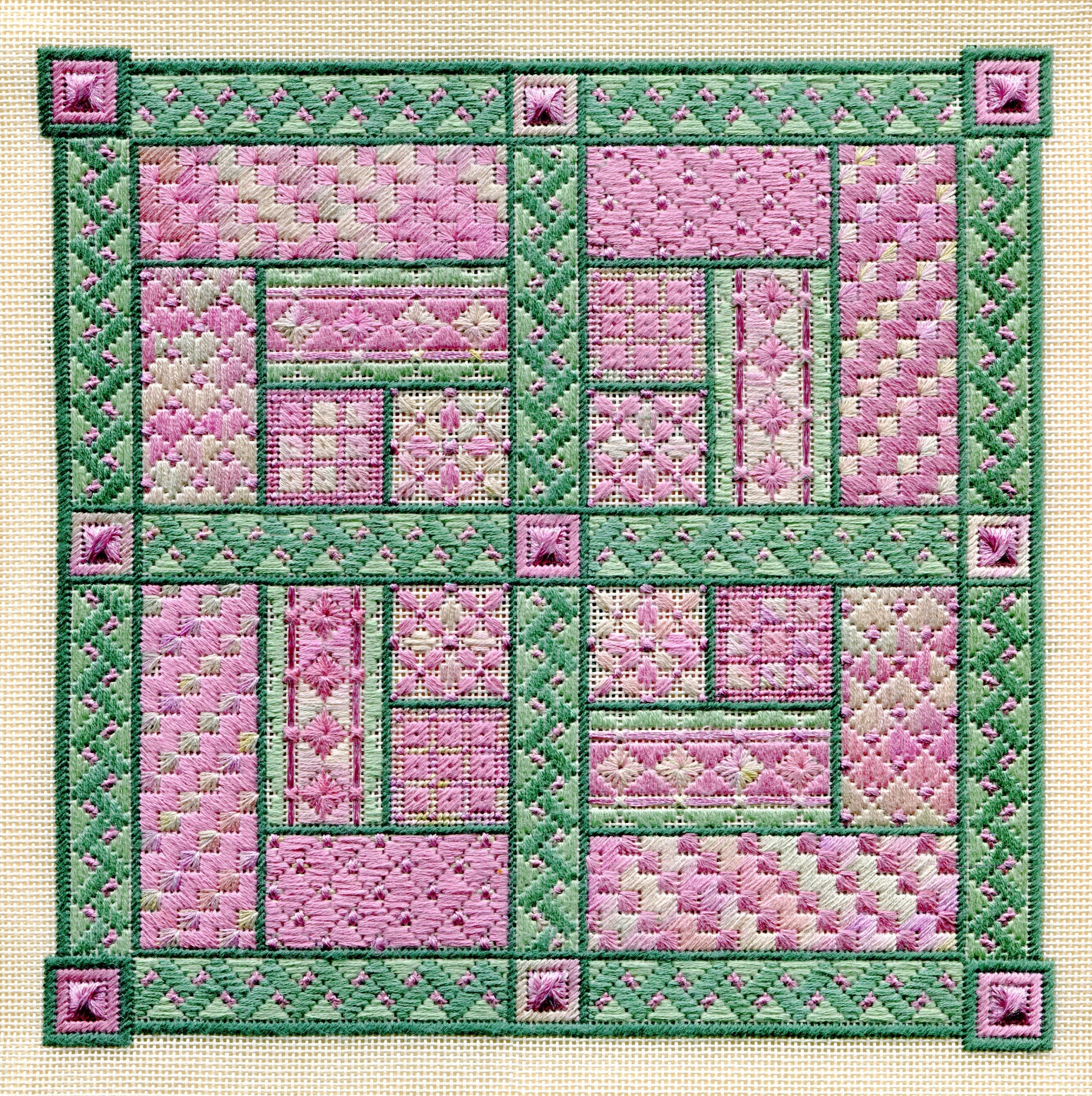 SPRING PATCHWORK is a luscious 8.75" x 8.75" counted canvaswork design
worked on a 13" x 13" piece of 18 ct. eggshell canvas, featuring an assortment of
easy stitch patterns done with a delicious palette of silk threads.

Each stitcher has a choice of these color palettes: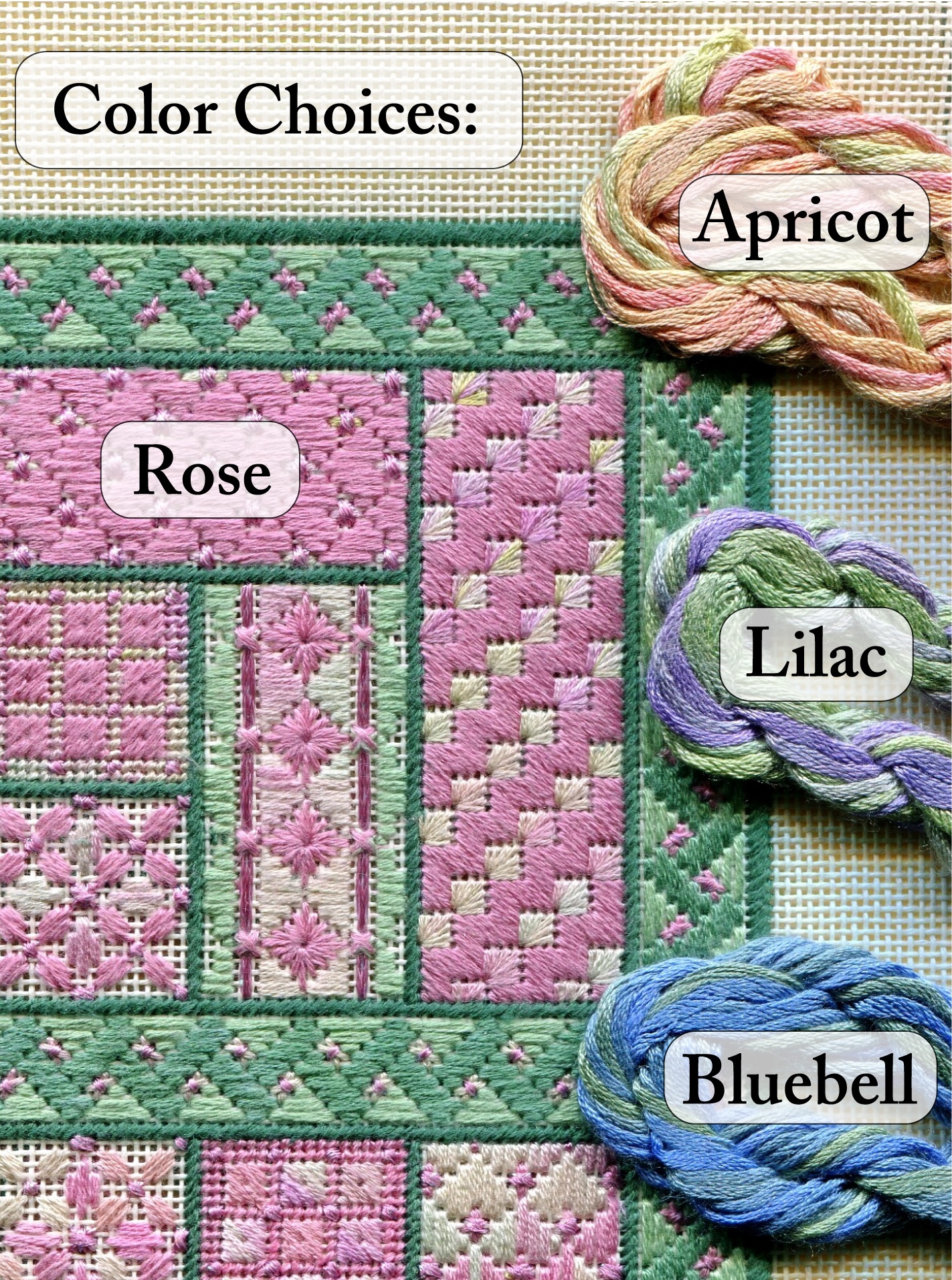 ROSE: Waterlilies 046, "Rose Blush" (2 sk.) with Splendor S824 (2) & Ribbon Floss 148-050
APRICOT: Waterlilies 053, "Coral Blush" (2 sk.) with Splendor S1150 (2) and Ribbon Floss 148-108
LILAC: Waterlilies 112, "Fir" (2 sk.) with Splendor S951 (2) and Ribbon Floss 148-104
BLUEBELL: Waterlilies 229, "Oasis" (2 sk.) with Splendor S986 (2) and Ribbon Floss, 148-109
... and all of the colorways use the same green family of Splendor S831, S905 and S1154.

A full kit includes:

a thread palette of silks and metallics;

a 13" x 13" piece of 18 ct. eggshell canvas;

#22 & 24 tapestry needles;

and a pattern with full textual instructions, as well as lots of stitch graphs.
The kit DOES NOT INCLUDE 13" x 13" stretcher bars or scroll bars.

Full Kit Price (excludes postage): $80.00

Pattern only (includes elessons, excludes postage): $25.00

REGISTRATION PERIOD: March 9th thru April 30th, 2019

KITS SENT OUT: (mid-May, or as soon as all threads arrive!)

CYBER CLASS STARTS: mid- to end-of May 2019

CLASS INFORMATION: The class will have three email lessons sent out every other week, to give the stitcher
plenty of time to work on each step of this design. Lessons will include extra tips, notes, color & design discussions,
and up-close photos of the stitches you'll be creating. I rate this piece as one for an advanced beginner.

LJP CYBER CLASS REGISTRATION FORM
To pay with a check please print, fill out this form, and send with your payment to:
Laura J. Perin Designs
112 Wisteria Circle
Cloverdale, CA 95425
CLASS: "SPRING PATCHWORK

DATE: ____________
REGISTRATION is March 9 - April 30, 2019

NAME: __________________________________________
ADDRESS: __________________________________________
__________________________________________
__________________________________________
TELEPHONE #: ______________________________________
EMAIL ADDRESS: ____________________________________
FULL KIT (threads, canvas, pattern): $80.00 __________
PATTERN ONLY (includes elessons) $25.00 __________

KIT POSTAGE (U.S. Priority):
U.S.A. $10.00 __________
CANADA: $30.00 __________
(Not available for any other countries)
PATTERN ONLY Postage, U.S. $3.00 __________
PATTERN ONLY Postage, Canada $8.00 __________

TOTAL:
______________
~ ~ ~ ~ ~ ~ ~ ~ ~ ~ ~ ~ ~ ~ ~ ~ ~ ~ ~ ~ ~ ~ ~ ~ ~ ~ ~ ~ ~ ~

I accept Credit Cards, so call me if that's the way you want to pay;

also, I recommend using your credit card through PAYPAL (which is one of their options)
FOR U.S. PAYPAL ORDERS:
To pay for the SPRING PATCHWORK kit, please click box below, and if you can, leave me a note

which color you prefer:
To pay for the SPRING PATCHWORK pattern only, please click box below:
FOR CANADIAN PAYPAL ORDERS:
To pay for the SPRING PATCHWORK kit, please click box below, and if you can, leave me a note

which color you prefer:

To pay for the SPRING PATCHWORK pattern only, please click box below: