LJP Cyber Classes
A new geometric project in soft pastels...
"SPRING FLING"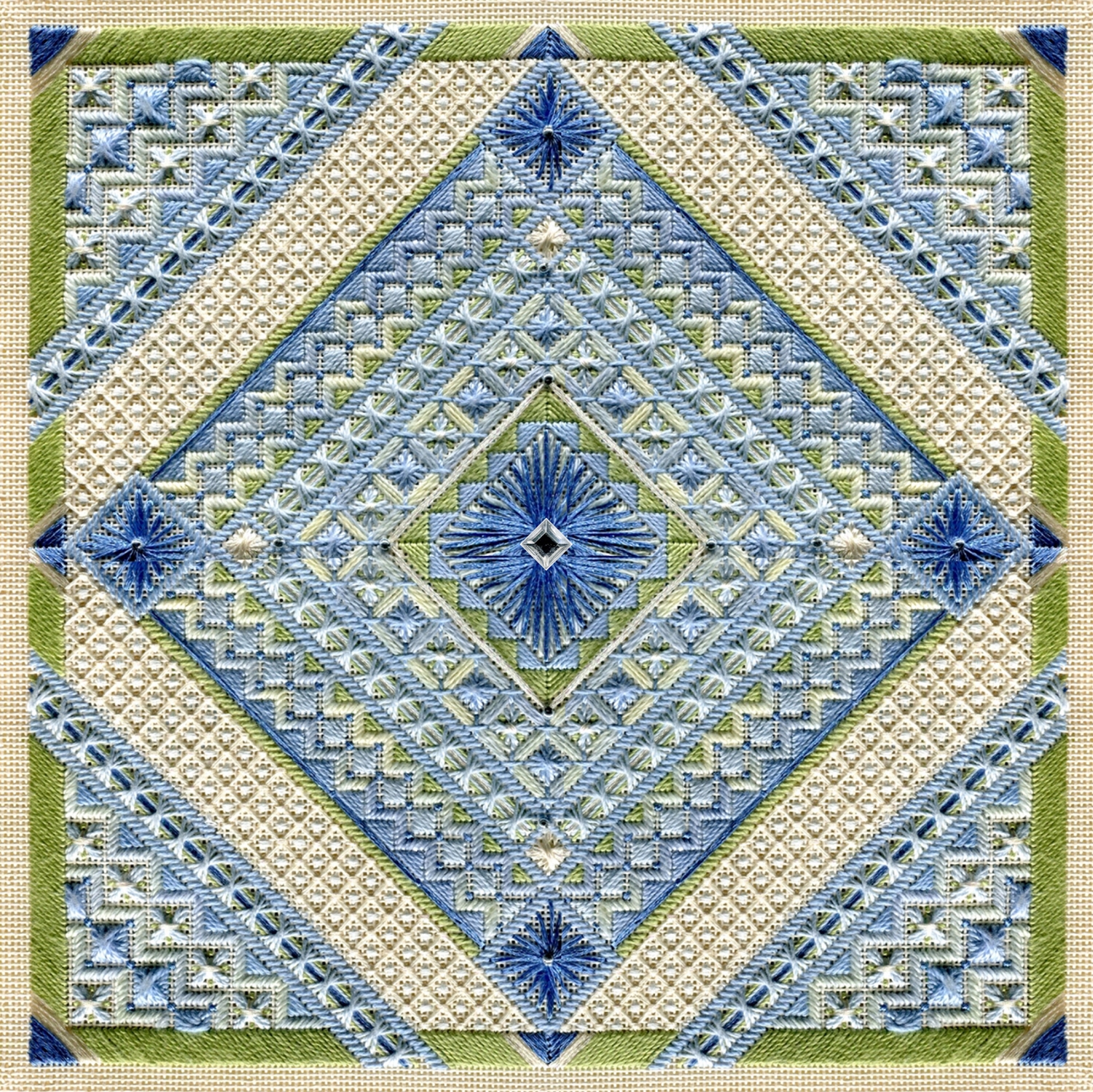 SPRING FLING is an 10" X 10" geometric project that is worked on
18 ct.eggshell mono canvas, done with a lovely thread palette of soft pastels...
The stitches are not hard, plus the thread colors are so serene and pleasing to stitch with!
Also, you have a choice of BLUE or PINK for your piece:
The BLUE kit uses Watercolours 336 - "cool waters" with DMC #5 3325, 3753, 3348,
with other matching floss and metallic ribbon
The PINK kit uses Watercolours 053 - "coral blush" with DMC #5 761, 818, 3348
with other matching floss and metallic ribbon.
Silver beads and a silver diamond jewel are included with the pattern.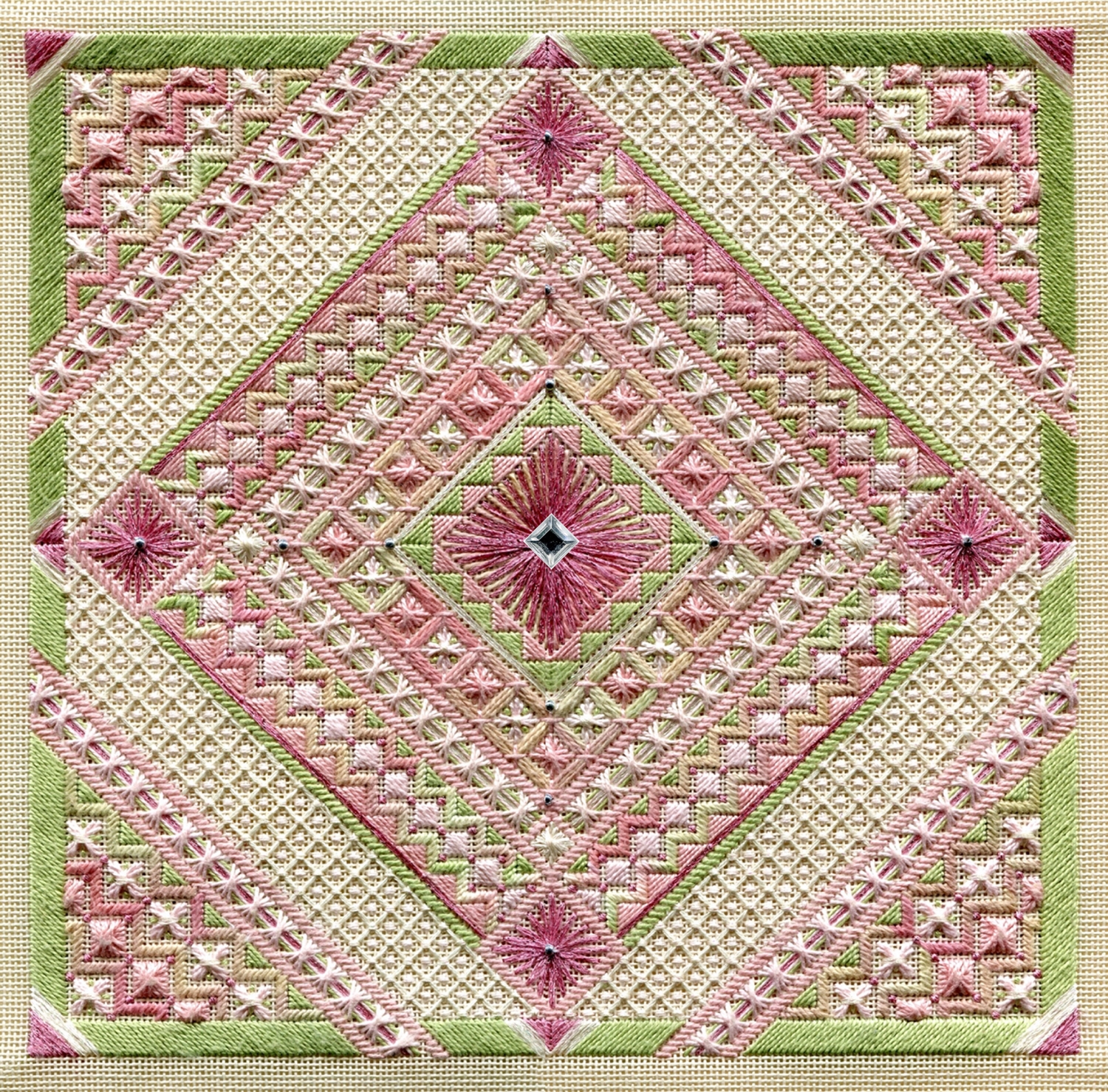 This class will have four emailed lessons that cover:
1) starting from the center and working outwards;
2) filling in the various border rows;
3) working the light and lacy lattice pattern; and

4) finishing up with outer borders and metallic ribbon diamonds.

a thread palette of #5 pearl cotton, mixed with variegated threads, floss, and metallics;

a 14" x 14" piece of 18 ct. eggshell green canvas;

#22 and 24 tapestry needles; and


a pattern with color graphs, full textual instructions, and stitch diagrams.
The kit DOES NOT INCLUDE the needed 14 x 14" stretcher bars or scroll bars.

Full Kit Price (excludes postage): $86.00
Pattern only (includes elessons,
excludes postage): $30.00

REGISTRATION PERIOD: April 10th through May 31st, 2021

KITS SENT OUT: Mid-June? (or whenever all threads arrive)

CYBER CLASS STARTS: End-of-June / Start-of-July, depending on kit arrival!

CLASS INFORMATION: The class will have four lessons, sent out every week,
with extra stitching information, color & design discussions, and up-close photos of the stitches

you'll be creating. I rate this as a beginner-to-intermediate project...
LJP CYBER CLASS REGISTRATION FORM
To pay with a check please print, fill out this form, and send with your payment to:
Laura J. Perin Designs
112 Wisteria Circle
Cloverdale, CA 95425
CLASS: "SPRING FLING"

DATE: ____________
REGISTRATION is April 10th - May 31, 2021

NAME: __________________________________________
ADDRESS: __________________________________________
__________________________________________
__________________________________________
TELEPHONE #: ______________________________________
EMAIL ADDRESS: ____________________________________
FULL KIT (threads, canvas, pattern): $86.00 _________
PATTERN ONLY (includes beads, elessons) $30.00 _________

KIT POSTAGE (U.S. Priority):
U.S.A. $12.00 _________
CANADA: $30.00 _________
(Not available for any other countries)
TOTAL:
______________
~ ~ ~ ~ ~ ~ ~ ~ ~ ~ ~ ~ ~ ~ ~ ~ ~ ~ ~ ~ ~ ~ ~ ~ ~ ~ ~ ~ ~ ~

I accept Credit Cards, so call me if that's the way you want to pay;

also, I recommend using your credit card through
PAYPAL (which is one of their options)
FOR U.S. PAYPAL ORDERS:
To pay for the SPRING FLING kit, please click box below:
To pay for the SPRING FLING pattern only, please click box below:

FOR CANADIAN PAYPAL ORDERS:
To pay for the SPRING FLING kit, please click box below:
To pay for the SPRING FLING pattern only, please click box below: