LJP Cyber Classes
I've been busy thinking up fun new cyber classes, and here's one that
I know you're going to love stitching:
"Bee-utiful Garden"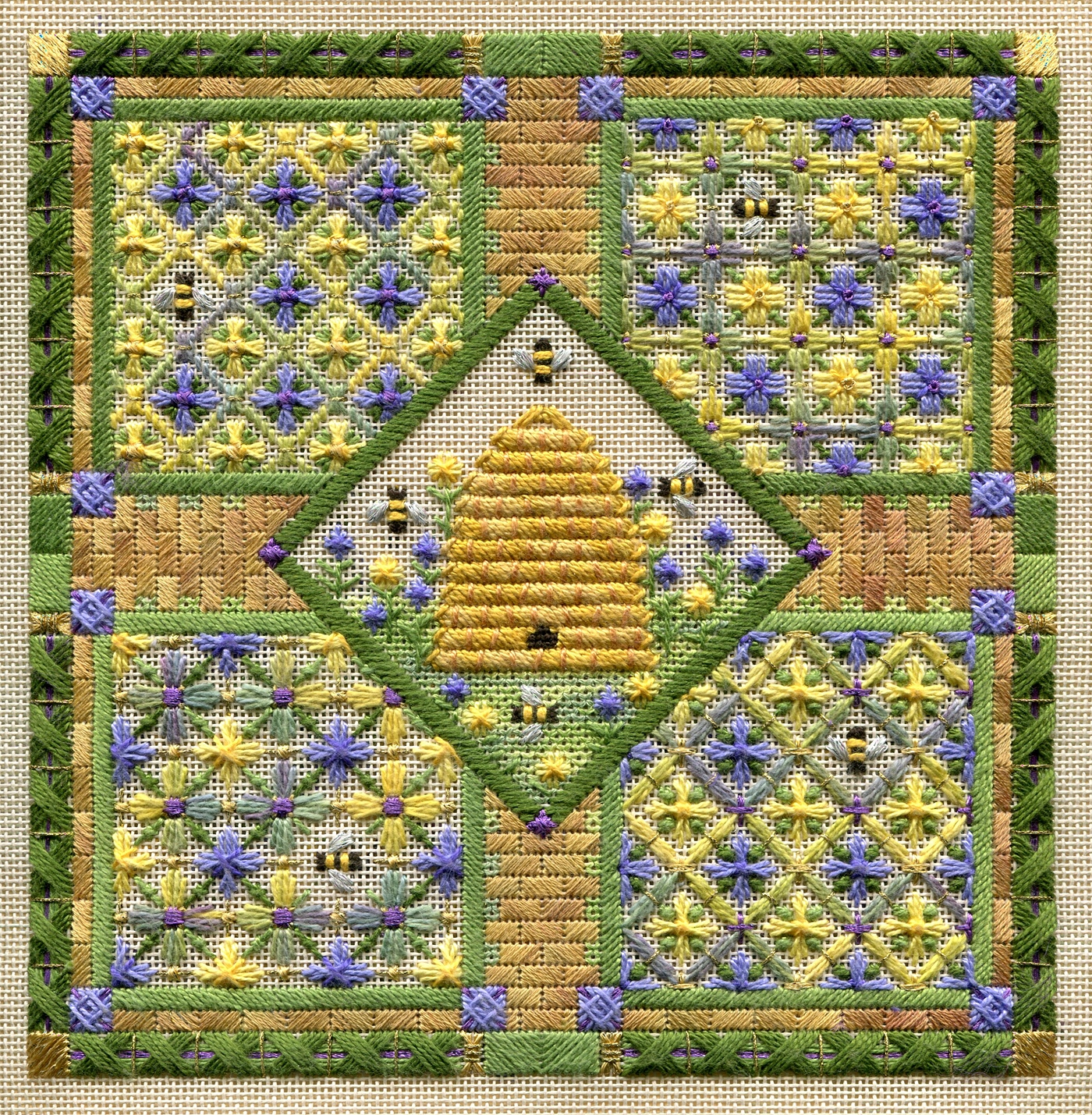 BEE-UTIFUL GARDEN

is an 8" x 8" project that is worked on 18 ct. eggshell mono canvas.
Watercolours 297, "Goldenrod" is the variegated thread used in this piece, mixed with a happy handful
of #5 pearl cottons, variegated threads (for flowers, grass, walkway, beeskip), and metallics.
Lots of fun floral stitches in this knot garden design, with plenty of BEES buzzing around ....
Yup, lots of fun BEES to stitch!!


And each stitcher has the choice of a flower accent color to compliment the yellow flowers, either
LAVENDER (DMC 333 & 340, which I used in the stitched model above) or
BLUE (DMC 322 & 809, which will be a tad softer in color):



A full kit includes:

a thread palette of #5 pearl cotton, variegated threads, and metallics;

a 12" x 12" piece of 18 ct. eggshell canvas;

#22 & #24 tapestry needles;

and a pattern with full textual instructions, as well as lots of stitch graphs.
The kit DOES NOT INCLUDE stretcher bars or scroll bars.

Full Kit Price (excludes postage): $88.00

Pattern only (excludes postage): $25.00

REGISTRATION PERIOD: June 15th through July 31, 2018

KITS SENT OUT: (mid-August, or as soon as all the kit materials arrive)

CYBER CLASS STARTS: end of August, hopefully - if all the kit supplies come in quickly!

CLASS INFORMATION: The class will have five email lessons sent out every week.

Lessons will include extra tips, notes, color & design discussions, and up-close photos of the stitches you'll be creating.

I rate this piece as one for an experienced beginner to intermediate stitcher.

LJP CYBER CLASS REGISTRATION FORM
To pay with a check please print, fill out this form, and send with your payment to:
Laura J. Perin Designs
112 Wisteria Circle
Cloverdale, CA 95425
CLASS: "BEE-UTIFUL GARDEN"

DATE: ____________
REGISTRATION is from June 15th thru July 31, 2018

NAME: __________________________________________
ADDRESS: __________________________________________
__________________________________________
__________________________________________
TELEPHONE #: ______________________________________
EMAIL ADDRESS: ____________________________________
FULL KIT (threads, canvas, pattern): $88.00 __________
KIT POSTAGE (U.S. Priority):
U.S.A. $10.00 __________
CANADA: $30.00 __________
(Not available for any other countries)

PATTERN ONLY $25.00 _________
(also includes emailed lessons...)

PATTERN ONLY postage, U.S 3.00 _________
PATTERN ONLY postage, CANADA 10.00 _________
TOTAL: ______________

~ ~ ~ ~ ~ ~ ~ ~ ~ ~ ~ ~ ~ ~ ~ ~ ~ ~ ~ ~ ~ ~ ~ ~ ~ ~ ~ ~ ~ ~

I can accept Credit Cards again, so call me if that's the way you want to pay;

also, I recommend using your credit card through PAYPAL (which is one of their options)
FOR U.S. PAYPAL ORDERS:
To pay for the BEE-UTIFUL GARDEN kit, please click box below, and also send me a
message/note of which color you want in your kit:
To pay for the PATTERN ONLY, please click box below:
FOR CANADIAN PAYPAL ORDERS:
To pay for the BEE-UTIFUL GARDEN kit, please click box below, and also send me a
message/note of which color you want in your kit:

To pay for the PATTERN ONLY, please click box below: