LJP Cyber Classes
While working on my "Bee-Utiful Garden" this summer,
it occurred to me that the knot garden format would be fun
to try in other themes, and the first one I thought of was
a fall harvest piece called:
"Pumpkin Patch"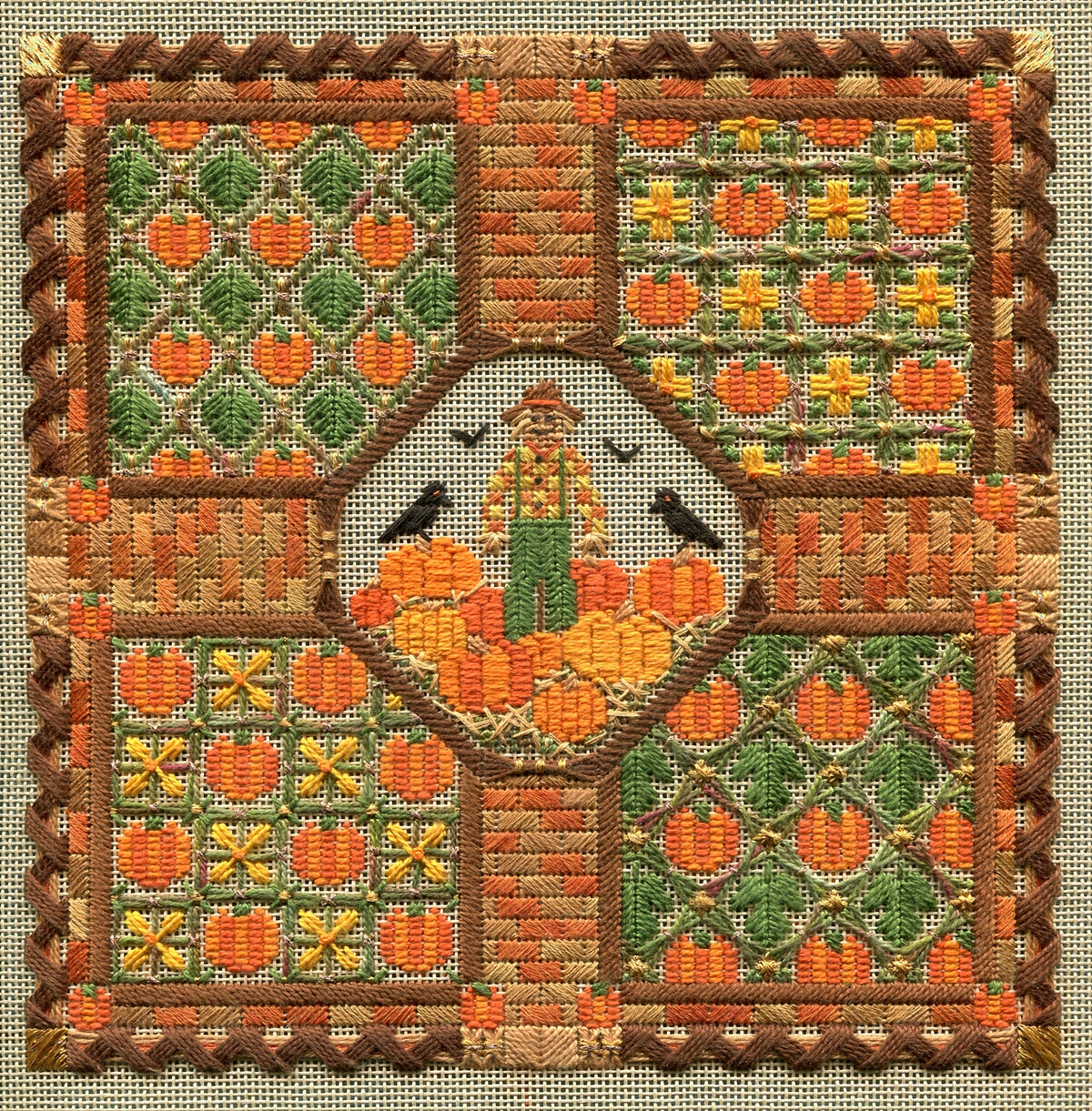 PUMPKIN PATCH is an 8" x 8" piece that is worked on 18 ct. sandstone canvas with a bright
palette of 16 different threads. The pumpkin patterns are fun to stitch, and the center space has
a fun mix of pumpkins, crows and a happy scarecrow to create!

A full kit includes:

a thread palette of #5 pearl cottons mixed with variegated threads, floss, and metallics;

a 12" x 12" piece of 18 ct. sandstone canvas;

#22 & #24 tapestry needles;

and a pattern with full textual instructions, as well as lots of stitch graphs.
The kit DOES NOT INCLUDE stretcher bars or scroll bars.

Full Kit Price (excludes postage): $84.00

Pattern only (includes elessons, excludes postage): $25.00

REGISTRATION PERIOD: closed

KITS SENT OUT: (end of November, or as soon as all the kit materials arrive)

CYBER CLASS STARTS: end of November/beginning of December - if all the
kit supplies come in quickly!

CLASS INFORMATION: The class will have four email lessons sent out every other week, to give the stitcher
plenty of time to work on each step of this design. Lessons will include extra tips, notes, color & design discussions,
and up-close photos of the stitches you'll be creating. I rate this piece as one for an advanced beginner.

LJP CYBER CLASS REGISTRATION FORM
To pay with a check please print, fill out this form, and send with your payment to:
Laura J. Perin Designs
112 Wisteria Circle
Cloverdale, CA 95425
CLASS: "PUMPKIN PATCH"

DATE: ____________
REGISTRATION is October 8th - November 15th, 2018

NAME: __________________________________________
ADDRESS: __________________________________________
__________________________________________
__________________________________________
TELEPHONE #: ______________________________________
EMAIL ADDRESS: ____________________________________
FULL KIT (threads, canvas, pattern): $85.00 __________
PATTERN ONLY (includes elessons) $24.00 __________

KIT POSTAGE (U.S. Priority):
U.S.A. $10.00 __________
CANADA: $30.00 __________
(Not available for any other countries)
PATTERN ONLY Postage, U.S. $3.00 __________
PATTERN ONLY Postage, Canada $8.00 __________

TOTAL:
______________
~ ~ ~ ~ ~ ~ ~ ~ ~ ~ ~ ~ ~ ~ ~ ~ ~ ~ ~ ~ ~ ~ ~ ~ ~ ~ ~ ~ ~ ~

I accept Credit Cards, so call me if that's the way you want to pay;

also, I recommend using your credit card through PAYPAL (which is one of their options)
FOR U.S. PAYPAL ORDERS:
To pay for the PUMPKIN PATCH kit, please click box below:
To pay for the PUMPKIN PATCH pattern only, please click box below:
FOR CANADIAN PAYPAL ORDERS:
To pay for the PUMPKIN PATCH kit, please click box below:

To pay for the PUMPKIN PATCH pattern only, please click box below: